238 West Patriot Street
Ankeny Square Cemetery
This cemetery dates back to the earliest years of Somerset. A historical marker, erected by the Pennsylvania Historical and Museum Commission in 1954, describes its origins this way:
"Set aside for burial ground and place of worship on the original plat of Milfordstown by Ulrich Bruner, 1787, and by Peter Ankeny in 1789 when he laid out the south side of the settlement renamed Somerset in 1795."
In its earliest days, there was a log church on the site. Among the graves in the cemetery are those of Revolutionary War, War of 1812, and the Civil War veterans. Peter Ankeny and his wife, Rosina, are buried here, too.
The north/south sides of the cemetery are bounded by West Patriot Street and West Church Street. Huge rhododendron bushes line the Church Street side and provide a massive display of floral color each Springtime.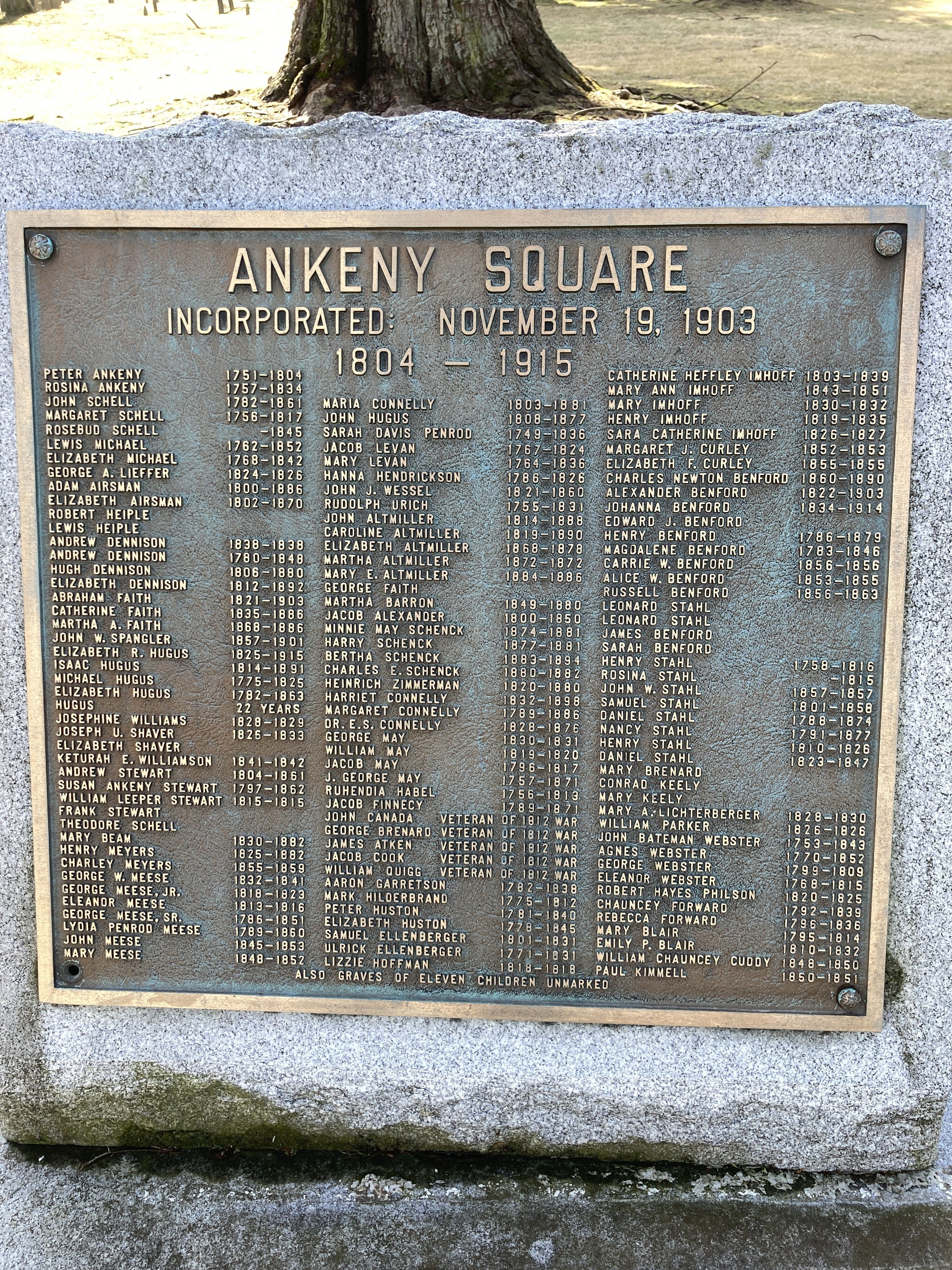 The historical marker is near the cemetery entrance on Patriot Street which is readily identified by two huge sandstone columns that were once part of the county's second courthouse (1852-1904). Upon entering, visitors will find a large bronze marker that lists the names of 100 individuals buried in the cemetery. It also notes that there are 11 unmarked graves of children.
Among those buried in Ankeny Square are several individuals whose names, or those of their relatives, can be found in local history books:
Rosina (Bonnet) Ankeny (1757-1834) – Her father was Jean Bonnet who owned the historic tavern near Bedford. One of Peter & Rosina's daughters, Elizabeth, married Michael Hugus, who was well-known as a Berlin clockmaker in the 1800s.
Chauncey Forward (1793 -1839) – He was a U.S. Congressman and his daughter, Mary, married Jeremiah Sullivan Black who served in several high-level government jobs, including Secretary of State.
Henry Imhoff (1819-1835) – His daughter, Julia Catherine, married John Martin Holderbaum, the founder of Holderbaum's store in Somerset.
Jacob Lavan (1767-1824) – He was the father of David Lavan, founder of Lavansville.
Lewis Michael (1762-1852) – A silversmith and watchmaker, he was known for making fine surveyor's instruments, particularly compasses.
Postscript: Amelia Earhart, best remembered as the first female aviator to fly solo across the Atlantic Ocean, lost her life in 1937 while attempting to circumnavigate the globe in a twin-engine plane. Less well known is the fact that her great-grandparents, John Patton (1793-1836) and Harriet Wells (1801-1860) are both buried in Ankeny Square.