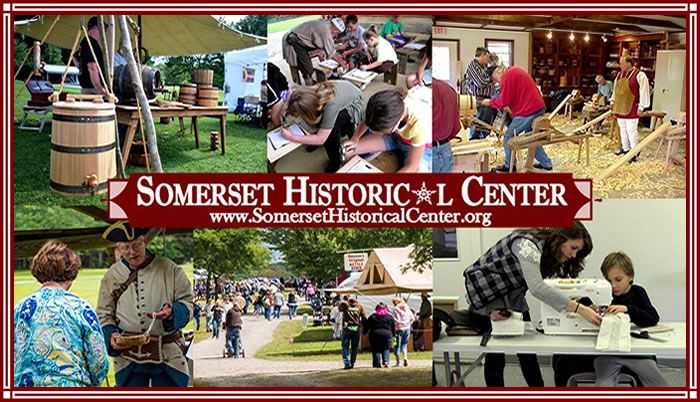 Groups, School Tours, and Programs at the Somerset Historical Center
The Somerset Historical Center educates the public about rural life in southwestern Pennsylvania from pre-history to the present. The Historical and Genealogical Society of Somerset County, a non-profit community-based organization, supports and assists the Pennsylvania Historical and Museum Commission by conducting the daily operations of the site.

The Education Department has designed special programs for groups of ten or more to enhance the existing school curriculum in Pennsylvania history for the time period of the late eighteenth and early nineteenth centuries. All programs can be adapted to meet the needs of individual grades and classes.
The Somerset Historical Center is open for outside guided tours April 1 – October 31.
Spring field trips are offered mid-April through June.
Onsite programs and outreach programs are offered throughout the year.
School Tours
Our school tour program, "Life in the Glades," is designed for grades 2-4. Students get a first-hand experience of the past as they spend a day in the life of the early frontier settlers. Students will learn from costumed interpreters about the challenges that settlers faced on the frontier and how they provided for their basic needs through farming and other trades. Students learn about food, shelter, clothing, and early jobs in the Glades through hands-on activities, food samples, and take-home crafts.
School tours are offered in late-April, May, and early June. Groups are typically on site from 9:00a-2:00p, but we can adjust the schedule around varying travel times.
Groups must bring a packed lunch, but space is provided for groups to eat.
Much of the tour takes place outside, so groups are encouraged to wear weather appropriate clothing.
Admission for teachers and aides are free with the group admission. All other chaperones must pay admission for the tour.
If you would like your students to visit the Museum Store, we can accommodate that in the daily schedule.
Cost is $5.00 per student.
For more information or to book a tour, please call the Somerset Historical Center at (814)445-6077
STEM/STEAM Programs
Introducing a new STEAM Program for Secondary Classrooms: AMAZING LIME
Did you know that you have likely encountered and ingested lime products at least 10 times today?
Did you know that our health, our economy, and our homes are dependent on lime?
Did you know that the Somerset Historical Center is home to a fully functioning lime kiln?
Come and learn how lime is harvested, processed, and applied for everyday use. Practice loading a lime kiln. Learn how lime is created and used across the globe. A full unit of STEM/STEAM focused activities has been developed to introduce students to the incredible impact lime has on our lives. Students will participate in a professionally designed curriculum that is filled with informative, interactive experiences. Students will also complete a project journal they can take with them that lends itself to extension activities that can be done at home or in the classroom.
COST: $8:00 per student
Call today to register your group for the Amazing Lime Educational Experience!
(814)445-6077
Group Information
Reserve your group experience by calling (814) 445-6077 or emailing: info@somersethistoricalcenter.org.

A group is defined as ten or more paying visitors who have arranged their visit in advance.