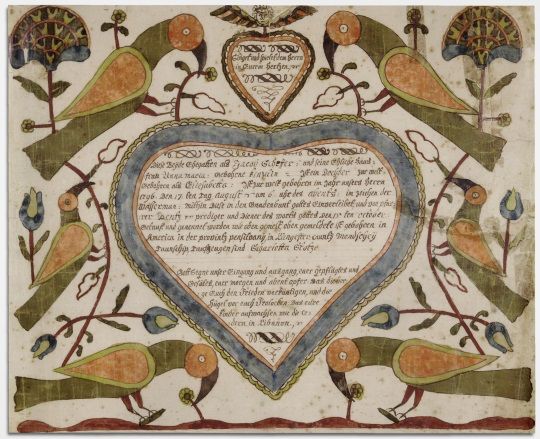 Saturday, May 11, 2019
10am to 2pm
The Somerset Historical Center hosts a Fraktur Fest to document the artists who created colorful certificates for early Somerset County families in the late eighteenth and early nineteenth centuries.  Bring your examples of these Pennsylvania German decorated documents for discussion and recording between the hours indicated to learn more about them.
Enjoy a brief lecture by art consultant Jean Woods at 10am. Ms. Woods has curated several Fraktur exhibits and will be on hand until 2pm to assist with documentation.
 
These ink and watercolor paper documents included bookplates, religious verses, and house blessings, but most were baptismal certificates or birth certificates.  The decorated papers were often folded into Bibles and were written in German script, although a few English versions are found.
 
Please bring your pieces in anytime from 10:00am to 2:00pm.  The Center will make scans of your examples for future study and a possible exhibition.
For questions, contact SHC Executive Director Mark Ware: c-mware@pa.gov / (814) 445-6077.