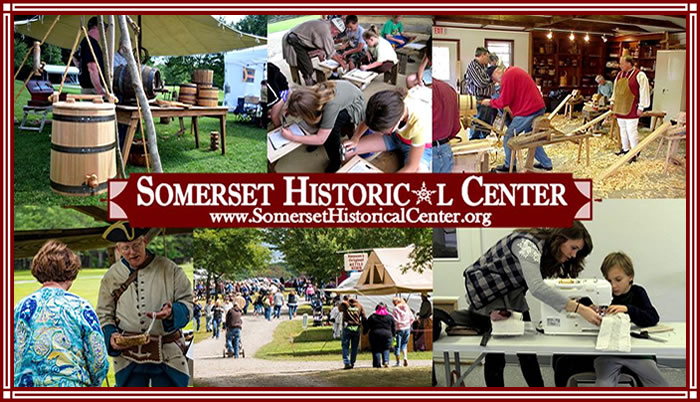 Groups, School Tours, and Programs at the Somerset Historical Center
The Somerset Historical Center educates the public about rural life in southwestern Pennsylvania from pre-history to the present. The Historical and Genealogical Society of Somerset County, a non-profit community-based organization, supports and assists the Pennsylvania Historical and Museum Commission by conducting the daily operations of the site.

The Education Department has designed special programs for groups of ten or more to enhance the existing school curriculum in Pennsylvania history for the time period of the late eighteenth and early nineteenth centuries. All programs can be adapted to meet the needs of individual grades and classes.
The Somerset Historical Center is open for outside guided tours April 1 – November 1.
Spring field trips are offered mid-April through June.
Onsite programs and outreach programs are offered throughout the year.
Group Information
Reserve your group experience by calling (814) 445-6077 or emailing: info@somersethistoricalcenter.org.

A group is defined as ten or more paying visitors who have arranged their visit in advance. With every ten paying student visitors, one complimentary adult ticket will be issued.