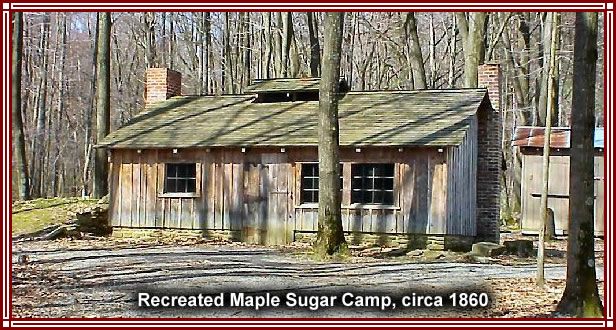 From late February through April each year thousands of sugar maple trees in the mountainous areas of southwestern Pennsylvania are tapped for their sap in a manner not unlike that used by early European and American settlers.  The process of making maple syrup and sugar has changed little over the years and still requires long hours of labor.  Roughly 35-40 gallons of sap are needed to produce a single gallon of maple syrup.    
Maple products provided the region's farmers with the opportunity to produce a cash crop at a time of the year when their fields were idle.  Excess syrup was bartered locally or sold to eastern markets.  The Center's recreated sugar camp, representative of the kind of permanent sugar camps in vogue in the 1860s, highlights the methods used for producing maple sugar and syrup from colonial times to the present day.
Every year, the Somerset County Maple Producers celebrate their sweet maple heritage with a county-side Maple Celebration in late winter. Click here to find out more.