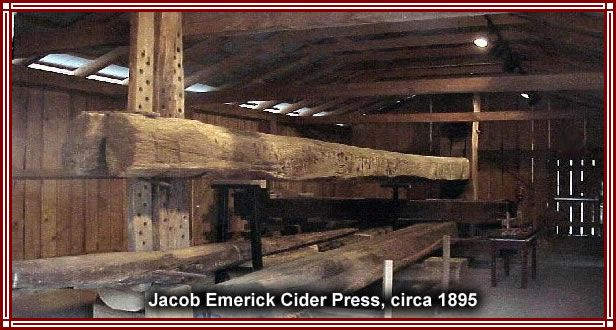 Large cider presses were once a common feature of farms throughout southwestern Pennsylvania.  Apples were considered a staple crop, and the production of apple cider for sale or conversion into vinegar or apple butter was vital to the local economy.  
This particular cider press was built by Jacob Emerick for his farm in southern Somerset County sometime during the 1890s and remained in operation until the mid-1930s.  The apples were first ground into pulp by an attached apple grinder.  The resulting pulp was then wrapped in linen and placed in a wooden frame forming a "cheese," after which it was pressed, the juice being collected and stored.  The press relied on the sheer weight of the 40 foot-long wooden pressing beam to squeeze the juice from the pulp.  A large press such as this would serve several nearby farms.  
The cider press was moved to the Somerset Historical Center and restored in 1999.