Annual School of Coopering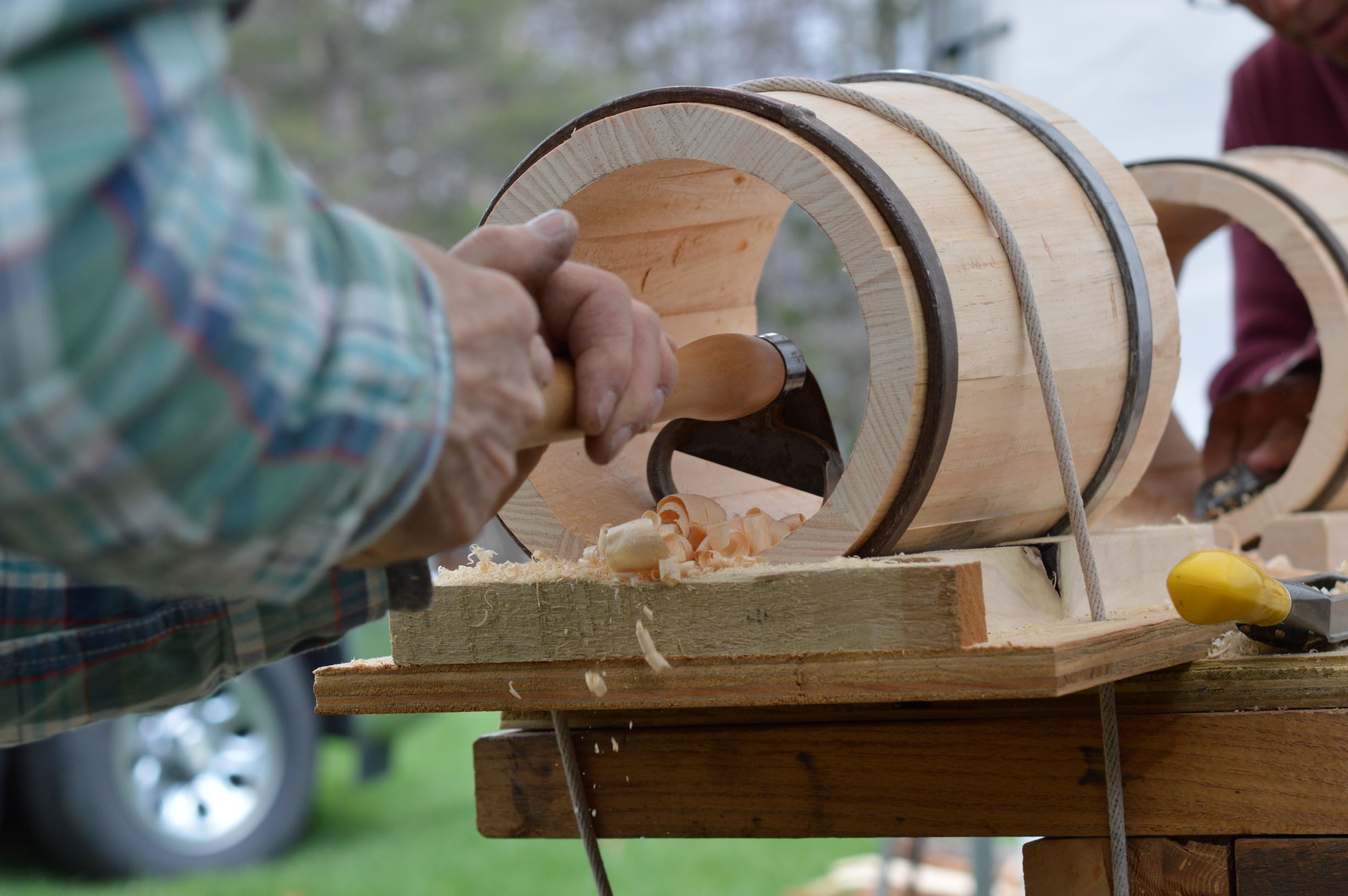 *The 2023 class is currently full. If you are interested, please register for the waiting list to be notified in the event of a late 2023 opening or to be notified when we schedule the class for 2024.*
The Annual School of Coopering at the Somerset Historical Center is a three-day workshop where participants will construct a keeler, or maple sap collecting bucket, from start to finish using traditional tools and materials. Taught by experienced instructor, Mark Ware, and several assistants, the class provides a relaxed atmosphere where even the novice woodworker can complete the project. Participants work at their own pace and all tools and materials are provided. Along with instruction, participants will learn some of the history surrounding coopering and will be able to view original examples of this historical trade.
The fee for the three-day class is $165.00. HGSSC Members get a reduced fee of $150.00. **Please contact us at (814)445-6077 or info@somersethistoricalcenter.org to ask about the member rate.**
*Must be 18 years old to participate. All tools and materials are provided, but participants are welcome to bring their own if you feel more comfortable using them. We also have a variety of coopering tools available for purchase. Coffee and light refreshments provided throughout the weekend as well as lunch on Saturday. If you are planning to attend from out of town, there is a number of options for lodging in Somerset and arrangements can be made to camp on our grounds if desired. Please call the Somerset Historical Center at (814)445-6077 for more information.
The cottage craft coopering tradition taught at the Somerset Historical Center stems from continual passing down of the craft within Somerset County from the 1800s to the present day. James Johnson and Jubal Werner, whose family were Somerset County coopers, shared their knowledge in the 1970's with Mark Ware who in turn shared the techniques and knowledge with numerous other persons throughout the years as a Museum Educator with the Pennsylvania Historical and Museum Commission at the Somerset Historical Center.
Coopering was an important cottage craft industry throughout the Somerset County Maple Sugar Region. Wooden buckets, tubs, sugar keelers (buckets to collect maple sugar water as it dripped from the spile) and other wooden vessels were needed throughout the county for the burgeoning maple sugar industry. Many farmers in the region were 'Jacks of all Trades" and were able to make the needed items as a sideline to farming. These skilled artisans fashioned thousands of maple sugar keelers from white pine and bound them with hoops made of white oak.
General Schedule of Work:
Friday, 4/28/2023 from 6pm to about 9:00 or 10:00pm
Saturday, 4/29/2023 from 9am to 5pm
Sunday, 4/30/2023 from 9am to 11am
About the Instructor: Mark Ware has been coopering since 1974, he learned from Somerset County descendants, and has documented and preserved Somerset County coopering techniques throughout the years. He also studied coopering through a Pennsylvania Historical and Museum Commission Professional Enhancement Grant with Master Cooper George Pettingill at Colonial Williamsburg, a PA Council on the Arts grant with James R. Johnson, and at Petersvalley, a New Jersey Craft School. Numerous volunteers who have previously taken the coopering workshop come back to assist participants. The Somerset Historical Center's Coopering School is dedicated to teaching these traditional Somerset County coopering techniques for future generations. To date more than 150 persons have participated in the coopering school classes.