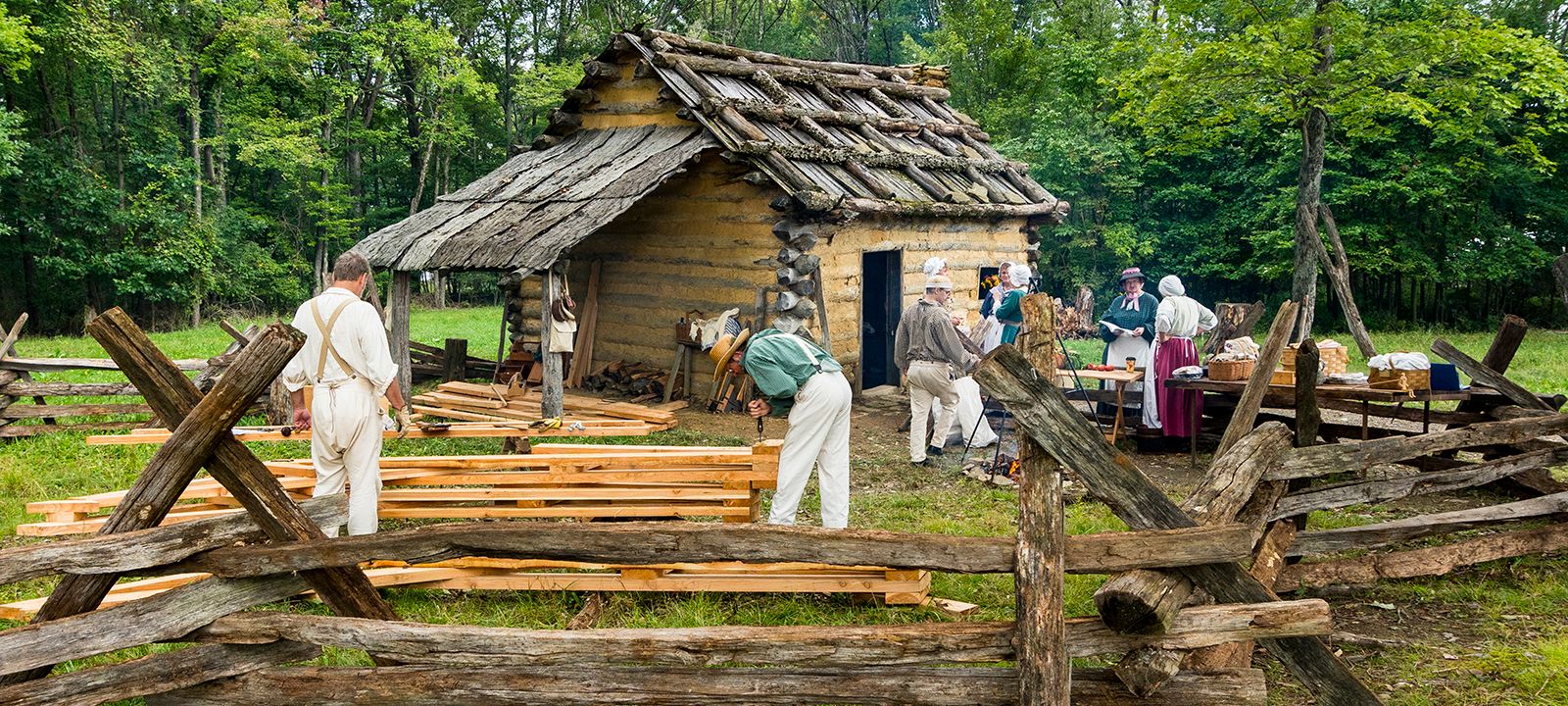 The event that became Mountain Craft Days had a small start in 1970 as a three-hour, Sunday afternoon display of traditional trades and crafts. It grew up in in the '70s, during a period of craft revival, when interest in the old ways seemed to be growing. The event continues today as a celebration of the native and pioneer spirit of those first Frosty Sons of Thunder and as the major fundraiser for the Historical and Genealogical Society of Somerset County (HGSSC).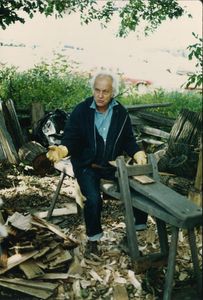 Earl "Doc" Haupt demonstrates shingle making at Mountain Craft Days
The foundational efforts of Earl "Doc" and Betty Haupt, who had the vision for preserving and sharing the history of the area, were crucial for the beginning of Mountain Craft Days, as well as the HGSSC and the Somerset Historical Center. After the 1954 Sesquicentennial Celebration, the Haupts brought the Adam Miller Log House to their property along the Somerset Pike. Eventually, Doc and Betty added the Walter's Mill Covered Bridge, an Antique Shop (operated with Otto Wilt) and a reproduction Maple Sugar Camp to the exhibits.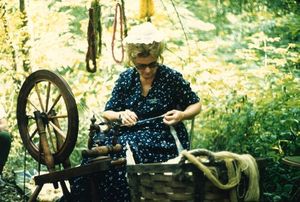 Betty Haupt demonstrates spinning wool at Mountain Craft Days
Mrs. Haupt was part of the group that formed the Historical & Genealogical Society of Somerset County in 1959. Her efforts helped lead to the creation of the Somerset Historical Center by the Pennsylvania Historical and Museum Commission. Using the Haupt's historical buildings and some collections for exhibits, a new rural heritage museum was planned to open in 1970.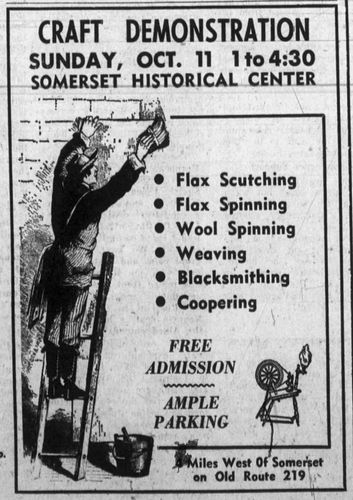 That year was busy for the HGSSC and the Somerset Historical Center. July saw the grand opening of the brand-new Visitor Center with great fanfare, including a visit by the Appalachian Wagon Train. Fall of that year was filled with visits by children from schools around the area and in October, a new program was planned. The ad for it simply said:
Craft Demonstration
Sunday, Oct. 11  1 to 4:30
Somerset Historical Center
That first Sunday afternoon featured four demonstrations of pioneer crafts. David Weimer at blacksmithing, Col. James Johnson at flax processing and spinning, Jean Kimmel at weaving, and James Younkin at coopering. Betty Haupt saw the event as a way to engage and educate young people and considered the live demonstrations of the crafts integral to capturing their attention. That vision continues today, where one of the requirements for a vendor to participate is that they demonstrate the techniques used to produce the items they sell.
The "Annual Demonstration of Pioneer Crafts" grew quickly. By 1973 the event featured over 30 artisan demonstrators and was now held in September. It also had a new name, Mountain Craft Days.