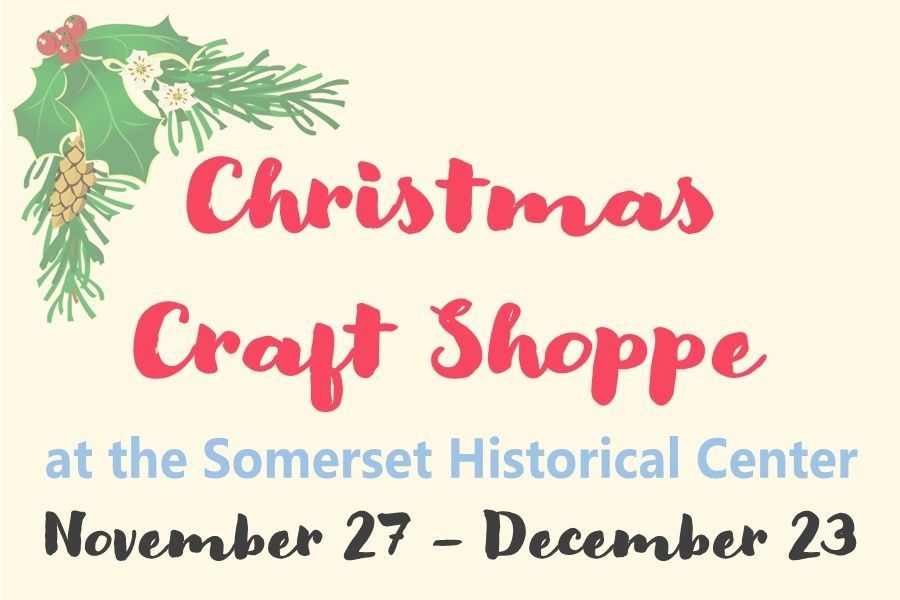 Calling all artisans and crafters!
The Historical and Genealogical Society of Somerset County (HGSSC) is pleased to announce our inaugural Christmas Craft Shoppe at the Somerset Historical Center. The Shoppe will be held from Saturday, November 27 (Small Business Saturday) through Thursday, December 23, 2021. Local and regional crafters are invited to display and sell their work at the Shoppe.     
•     Only items handcrafted by the artist can be accepted. Resale items or merchandise that are mostly manufactured will not be considered. We reserve the right to reject any items for any reason.
•     Only items from smoke and pet free environments will be accepted.
•     We cannot accept any food items that are not made in a licensed facility.
•     There is a 25% commission to HGSSC for each item that is sold, so please adjust your prices accordingly.
•     Items will be displayed as space allows. One 8-foot table will be provided to each vendor.
•     Delivery / Set up dates are November 18th through November 20th from 10:00am – 4:00pm.
•     When delivering your items to the Somerset Historical Center, please allow time for a staff member to review your inventory with you.
•     Unsold items can be picked up during Historical Center open hours the week following Christmas unless other arrangements are made.
•     HGSSC will make every effort to mail your commission check prior to the end of the 2021 calendar year. We will NOT have payments ready on December 23rd when the Shoppe closes.
•     HGSSC will take every precaution to safeguard your items; however, our insurance will not cover loss or damage of any item.
HGSSC staff members operate the Craft Shoppe, track sales, and pay the sales tax. Craft Shoppe hours are during the Somerset Historical Center regular hours, Wednesday to Saturday 10:00 am to 4:00pm. Vendors must fill out an inventory sheet and sticker or tag their items with prices before bringing them to the Somerset Historical Center. Use the following links to view and download the vendor letter and blank inventory sheets. Letters and blank inventory sheets are available to pick up at the Somerset Historical Center
To provide the largest variety of wares, please RSVP as soon as possible by emailing us at info@somersethistoricalcenter.org or call (814)445-6077. Please contact us if you have any questions or need additional accommodations. Feel free to share this information with other crafters and artisans. We look forward to working with you!